THE 3060i, 3560i AND 2500ci  – A3 COLOUR MULTI FUNCTIONAL SYSTEMS DELIVER HIGH PERFORMANCE, RELIABILITY AND FLEXIBILITY TO YOUR ORGANISATION.  
Many organisations are under the misconception that an A3 multifunction printer system is outside of their budget.  However, you can reduce costs as an A3 multi-function printer will allow you to fax, scan, email, copy and print all from the one machine – ideal for organisations with a demand for quick turn around for documents. Installing an A3 multifunction printer will allow you to manage your printing in house, giving you more control over your costs and avoiding third-party deadlines.  This control will allow you to manage projects more effectively and give you the added flexibility of being able to make last minute changes.
The EMS Managed Print Solution makes A3 colour printing and copying, even more, cost-effective – take a look at our explainer video or call one of the team now on LoCall 1890 770 770 
2500 ci – CONFIGURATION MADE TO MEASURE – CUSTOMISE TO MEET YOUR UNIQUE BUSINESS NEEDS
Speed up the scanning process

– scan colour and b/w templates with the dual scan original feeder with a total capacity of 175 pages.
Define who can do what

– Scalable security and accounting solutions determine user groups and the range access options
Protect your data

– The Data Security Kit enables you to delete your data and prevent data on the hard drive from being retrieved after use
Follow-Me-Printing solutions

– You can access your print jobs at any time from any location from the system of your choice

HIGH-QUALITY A3 COLOUR WITH EFFICIENCY AND FLEXIBILITY INCLUDED
Save time and money: 

The 2500ci automatically recognised colour and black and white templates during copying and processes them appropriately.  Even recognising blank pages so no more tedious manual collating!
Mobile Printing: 

is supported so that you can scan and copy directly from your smartphone or tablet whilst on the move.
'Send to me' function: 

sends important documents directly to your email address via the home screen.
Perfect your workflows:

Day-to-day experiences have shown which functions are most important for efficiently managing complex recurring tasks. Tap into the potential of colour and b/w multifunctional systems while increasing the quality of your deliverables. You should not have to settle for less!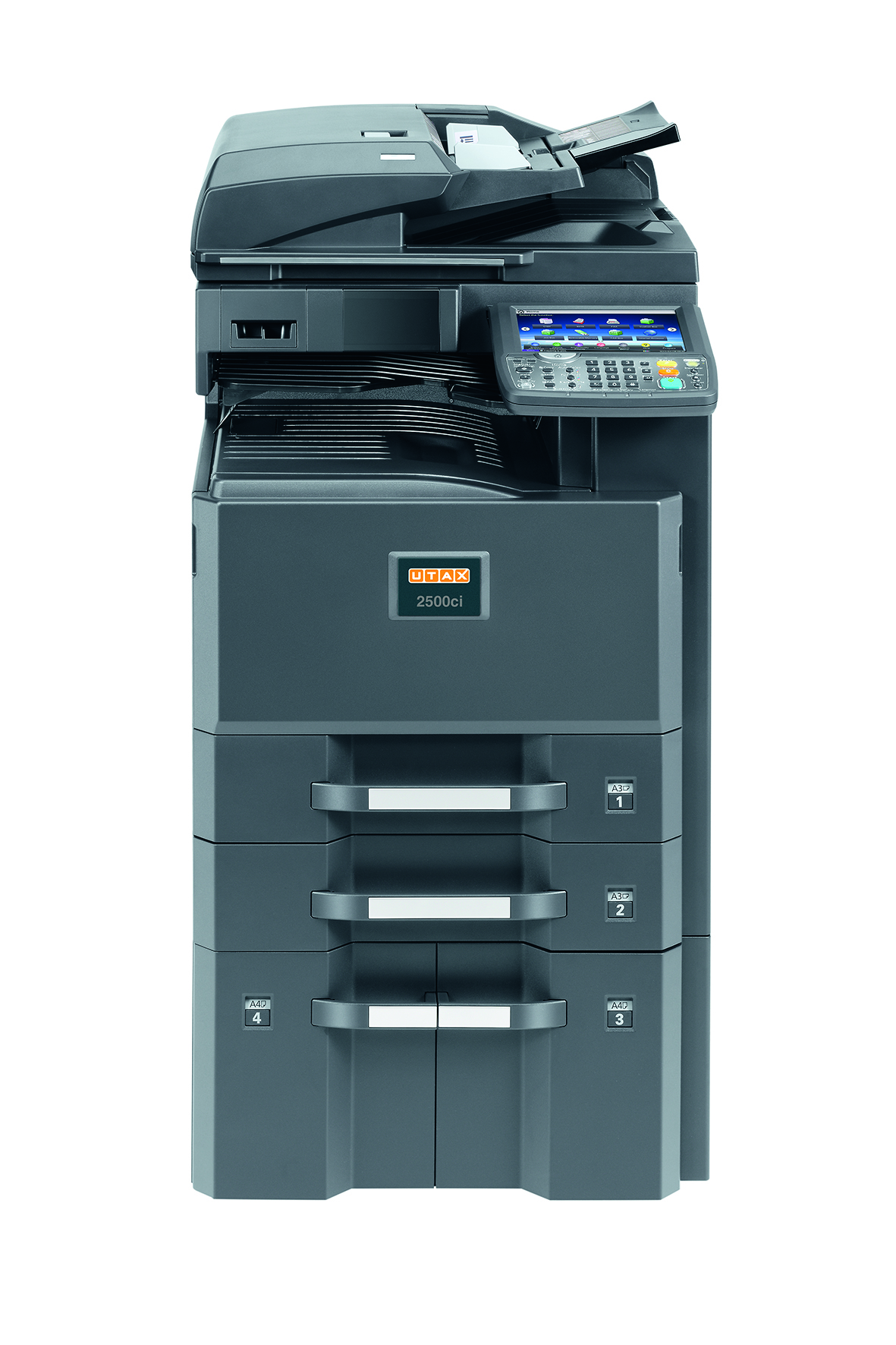 Improve your image:

Create attractive handouts or presentations for customers on high-quality paper with additional cover sheets and back pages, print internal documents on normal paper. High paper capacities mean you don't have to
refill as often.
Increase your productivity:

meet your deadlines: You will soon have the first page in your hand thanks to short warm-up times and a rapid first copy. High-speed outputs of up to 35 pages per minute in b/w (3560i), 25 pages per minute in colour (2500ci) and incredibly high duplex productivity ensure your documents are ready in the blink of an eye – with no time pressure.
Simplify organisation:

Define up to 50 dividers per print job, sort copies and prints into separate output trays so that your documents do not get mixed up.
Improve your cost controlling:

 Keep document-related costs transparent: The costs for printouts and copies can be assigned to up to Protect confidential information: The 'Private Printing' function prevents unauthorised access to your documents.
Protect confidential information:

The 'Private Printing' function prevents unauthorised access to your documents.
Streamline document management: 

Everything is easily accessible in your individual document mailbox so that processing print data for recurring jobs is no longer necessary.
You will be pleased with the clear 'Look and Feel' feature: Click the easy-to-understand, intuitive operation that is included in all systems via a colour touch panel, and zoom
and swipe as you would on a smartphone or tablet. Don't lose your way: Simply adjust
the Home screen to meet your requirements. The 'Home' button brings you back to where you started from.
emscopiers.ie/contact-us