A multi-function printer offers extra facilities such as scan and faxes in one device eliminating the need for separate purchases and additional expense. Although the purchase price for a multi-function printer may exceed that of a traditional printer, the overall cost is typically less than purchasing multiple devices. Meaning you can benefit from increased functionality without paying for each feature. In addition to the initial purchase savings associated with the original purchase price, maintenance on one device is considerably less than maintaining several devices.
EMS Copiers Managed Print Solution, essentially the brand new device/s without capital outlay, consumables and maintenance included, is an attractive option for many businesses.  Take a look at our short video to find out more https://youtu.be/de8DMcFfd-o
Another advantage of a multi-function printer is conserving space in a busy office. Rather than having to find space for a printer, a copier, a fax machine and a scanner, you can have the same functionality in a single device. This space efficiency may also benefit those trying to utilise their home office area or those working with significant space constraints.  A multi-function printer that includes fax and scan functionalities also adds another level of convenience by saving staff time walking between up to two or three separate devices.
Flexible A3 colour multifunctional printers are at the top of the wish list in many modern offices and need to satisfy as many different user requirements as possible.  The UTAX 2506ci and 3206ci multifunctional systems have been specifically developed to meet these requirements.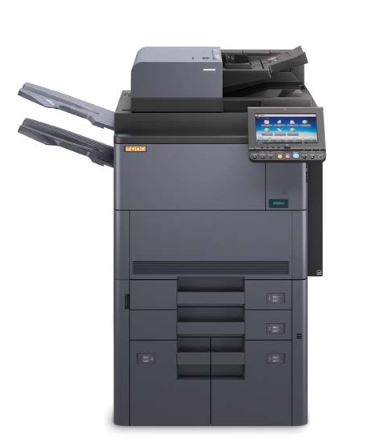 The 270-sheet dual-scan original feeder in this multifunctional device can fast scan in a single operation with careful handling of original documents. The systems conserve resources at the same time by allowing blank pages to be automatically filtered out during scanning and copying. The high print resolution of 1,200 dpi at full system speed also prints in SRA3 format and offers the option to process different paper thicknesses allowing you to create highly professional documents in brilliant colour quality. The versatile printer driver and the optional Fiery® Controller available for the 3206ci system also offer various options for optimising colour reproduction.
The menus of the large 9-inch colour touch display are easy to use. You can access the home menu at all times via the home button plus you can adapt this menu to suit your personal needs. The HyPAS interface allows you to easily integrate software solutions to optimise your specific processes. For printing on the move, the systems also feature an NFC interface for direct printing from an Android smartphone or tablet.
You can process up to 7,150 sheets from six paper feeds for various media. Paper formats from A6R to SRA3, paperweights from 52 to 300 g/m2 and even tab sheets are readily fed from the paper cassettes. Papers of up to 256 g/m2 can also be processed in duplex printing and used as cover sheets, for example. The innovative soft-close feature of our paper cassettes guarantees that paper can be added with minimal sound. Do you need different finishing options? We can offer you these! Everything is possible: from the space-saving internal finisher with 50-sheet stapling to a brochure finisher that also creates tri-folding for letters in addition to brochures with up to 64 A4 or A5 pages. In addition, all finishers in this multifunctional device can be equipped with a punch unit.
For more information contact: emscopiers.ie/contact-us – sales@emscopiers.ie – LoCall 1890 770 770