Epson WorkForce Enterprise? More sustainable printing!  With a compact design, the Epson AM-C4000/5000/6000 range of   MFP's from EMS Copiers offer the perfect solution for all your business printing needs.
The Epson WorkForce Enterprise AM-C4000/5000/6000 combine fast performance with low energy consumption. Made with the modern office in mind, the small footprint and modular design allow you to build your device to your exact requirements. And as if that wasn't enough, the innovative technology makes installation and maintenance easy and stress free.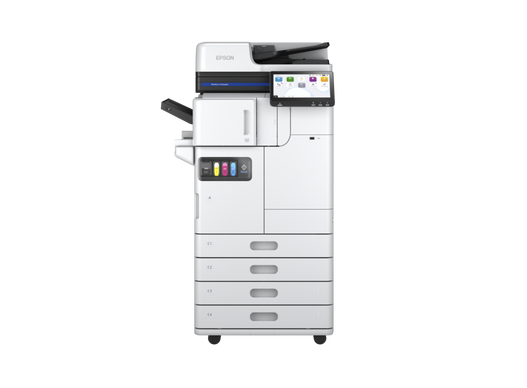 Reliable and improved sustainability
With a simpler, shorter paper path, paper jams can be removed more easily.  This means that service downtimes can be reduced. Through fewer consumables and supplies, it also produces less waste. With low power consumption, the overall environmental impact of printing is cut dramatically.

Efficient maintenance
Fewer replacement parts keep user intervention to a minimum, making day-to-day maintenance fast and efficient.
Heat-Free Technology
Epson WorkForce Enterprise Heat-Free Precision Core Technology requires no heat to warm up when it is switched on or awoken from sleep, which significantly reduces energy consumption.