EMS has a wealth of experience when it comes to providing smart printing solutions to the Education sector.  We are familiar with types of issues schools and colleges encounter and have the expertise to implement a secure, efficient, cost-effective print environment through our hardware, software and excellent service.
EMS in the Education sector:
Pull printing for staff and students
Accountability and reporting of printing, copying, scanning and faxing at all levels
'Rules Based Printing' to allow cost and device control
Department and billing codes for internal or external charging
Central document storage of coursework workbooks and common forms or letters
Connection to SIMS
Document scanning and workflow with Optical Character Recognition
Easy language selection at the device control panel
Pay for print – Cash or cashless
ID cards or Biometric device authentication
Connect to two networks, for example, a 'learning [student]' domain and an 'Admin [staff]' domain.
Take a look at what some of our customers think
Paul Crone, Principal, Old Bawn Community School 
"EMS Copiers services supplied all new equipment and were able to reduce the number of devices in the School by 33% by installing the most up to date multifunction devices reducing the school's carbon footprint by over 45%."
John Murphy, Principal, St. Kilian's Community School, Bray
"We have worked with EMS Copiers for several years.  We have now streamlined, efficient an extremely cost-effective Managed Print Solution that meets all of our requirements".
Teresa Hennessy, Principal, Tallaght Community School
"By taking the time to familiarise themselves with our processes, EMS Copiers tailored a Managed Print Solution for the school that continually provides a seamless, cost-effective print environment. EMS Copiers are a pleasure to deal with at all levels."
The tailored approach – EMS take the time to get to know you and your school or college

Before we implement a Managed Print Solution we take the time to familiarize ourselves with the school or college, its layout and carry out a detailed audit of the volumes produced on the existing devices.  Factors such as expansion or downsizing are all taken into account.  By taking the time to go through this process EMS can provide a detailed and accurate analysis of potential cost and efficiency savings.
What is a Managed Print Solution?
Essentially a new device/s with no capital outlay.  Maintenance and toner included.  All of our devices print, copy and scan.  EMS offers a range of bespoke software solutions designed for specific functions or vertical markets to fit in with your process.   Our software packs are essentially a mix of software, hardware and professional services that, when combined, produce a package of products bespoke to the clients' needs with the flexibility to adapt and scale as required.
Taking care of colour costs
EMS also offers an intuitive Intelligent Colour Billing Solution.  Put simply, we automatically calculate the amount of colour toner you use per page and reflect this in your billing.  So you only get charged for the amount of colour you actually use.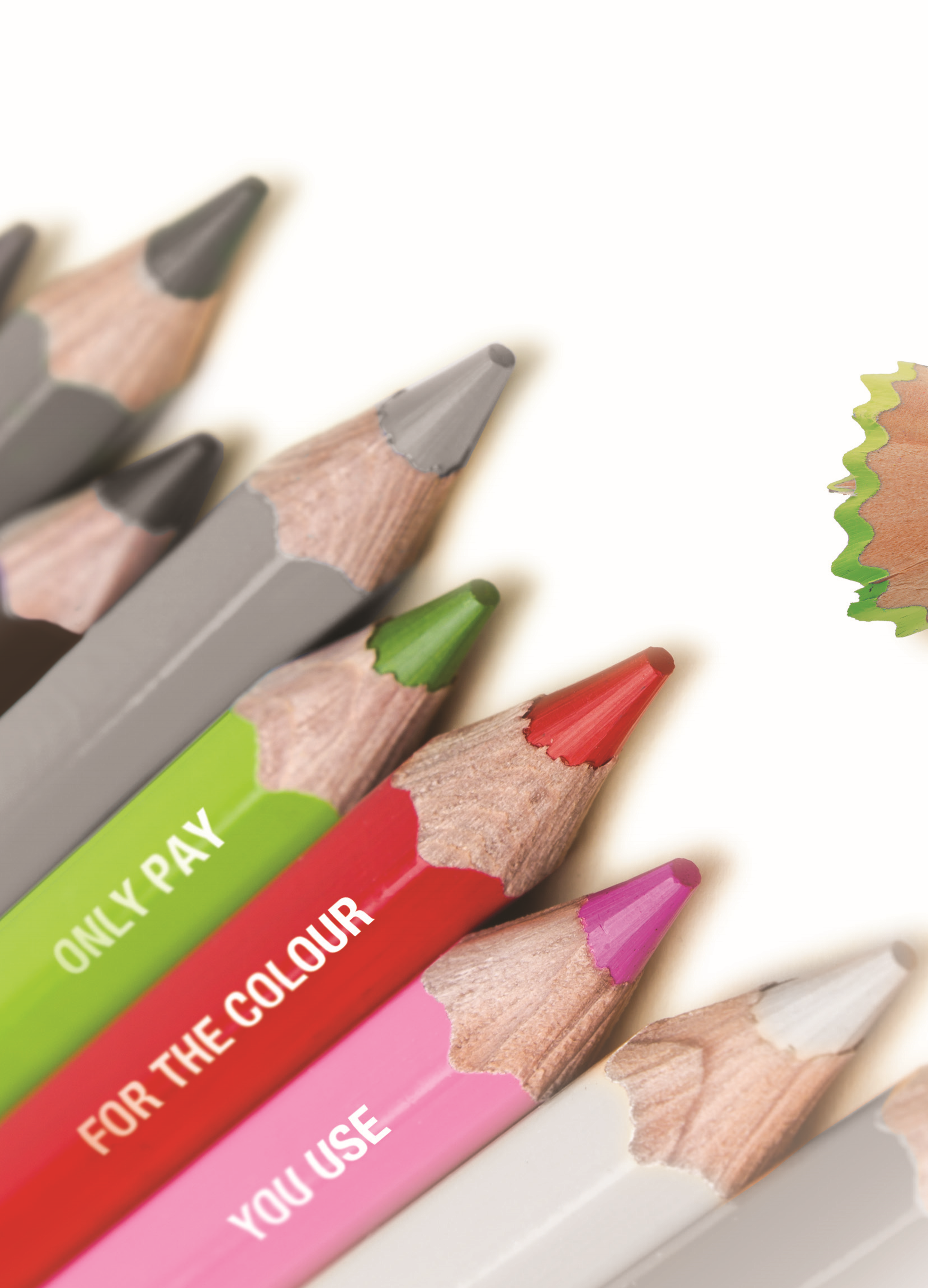 The Benefits of Intelligent Colour Billing:
Reduce Print Costs – Only pay for the colour you use
Lower Total Cost of Ownership (TCO)
Complete visibility and traceability of your print costs
No compromise on print quality
Increased sustainability – Less toner usage means less waste
Data Security Kit
IT Printer Security is indispensable for secure business operations and uninterrupted processes.  Whether it is because of the increasing threat of cyber attacks, the growing number of applications and sensitive data, or new regulatory requirements, security in office communication represents a challenge for every place of education. 
Functions offered:
Encrypts documents and user data automatically before they are saved to the hard drive (in compliance with AES-256)
Overwrites data that is no longer required and memory areas from which data have already been "logically" deleted
Triple overwriting (standard setting): The same area is overwritten twice with a random pattern and finally with zeros
Password protected for administrators
Certified according to ISO 15408 EAL 2
Advantages for customers:
Protects confidential data right at the system level, and thus increases the protection of your  data against unauthorised access
Secure method for overwriting and encryption of data, which makes the restoration of information virtually impossible
Simple implementation and intuitive operation directly at the MFP or printer
The result of a data breach can be devastating to a school or college, large or small. As well as huge penalties, imposed by strict new compliance regulations there is damage to a schools reputation.  As firewalls are no longer enough to protect your data, it is essential to implement multiple layers of protection down to every network endpoint—from PCs to printer and address compliance requirements.

The EMS Managed Print Solution provides robust energy efficient, high-speed, high-quality printing, copying, scanning devices.  We offer a wide range of machines with no capital outlay. Top quality service from our experienced team, plus toner all included one payment.  The EMS Managed Print Solution gives you complete visibility across your print environment allowing you to plan and budget accurately.  The first step to reducing your print costs is to contact the EMS team. 
You can call us on LoCall 1890 770 770 – Email sales@emscopiers.ie/contact-us