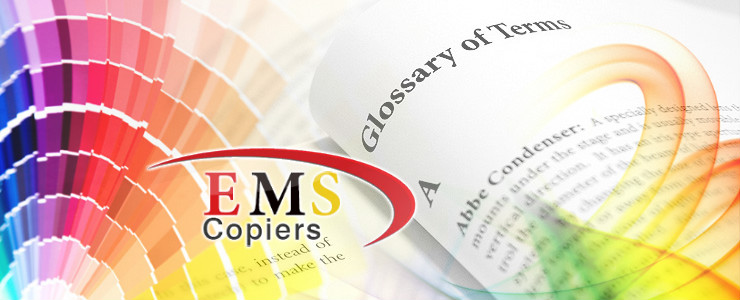 Glossary of Commonly Used Phrases in our sector
Within many industries, including our own, a lot of jargon is often used to simplify expressions, acts or products which are commonly used. While this might be great for those in the know, jargon more often than not alienates and confuses those on the outside who just want things to be said in plain English.
At EMS we are dedicated to putting our knowledge to work for our clients and as part of our effort to communicate with our clients as effectively as we can we will be publishing a common sense glossary of the commonly used phrases in the printing industry.
Glossary
---
Sourcing a Multifunctional Device (MFD) or MFD solution
The huge improvement of technologies in recent years has established a single unit as the norm when it comes to print, copying, fax and scanning. These units are known as Multifunctional devices or MFDs.
For the consumer this means that you no longer need to think in terms of separate devices for print, copying, fax and scanning. Now all cost and output projections can be based around the Multifunctional Device (or MFD) or fleet of devices which best suits your office and business requirements.
Print, Copy, Fax and Scan
Depending on which other office systems you already have, you can now select from a range of MFDs which offer print, copy, fax and scanning functions. Many devices offer a modular system which allows you to select the different functions required.
Footprint
Consider how much space is available to you. What equipment will your MFD replace, and how much 'space' will be freed up. MFD solutions can fit onto a desk, or be free-standing. The 'footprint' is simply the amount of space your new MFD will take up and it is also important that the device(s) you choose are right for your business needs considering the amount of 'space' available. For smaller offices, MFD's can be highly economical and have a smaller footprint, freeing up vital office space for other functions.
Keep an eye out over the coming weeks as we cut through more jargon related to print management solutions.
---
For more information on our products and services and to find out how EMS Copiers can save you money on your printing and copying costs contact Kate Sibbald at kate@emscopiers.ie