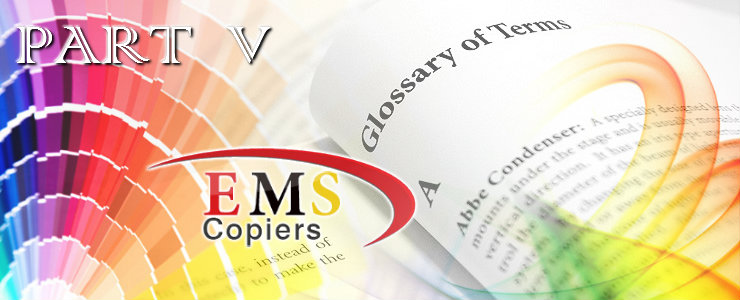 As part of our continued effort to communicate with our customers we continue to publish a common sense glossary of frequently used terms and phrases in our sector. Check out our answers below to the most commonly asked questions below.
---
Desktop MFD
Still a popular choice in the small business environment and can also be considered alongside larger MFD's where a balanced deployment of devices is being considered. Used also where space is at a premium or lower volume or functionality requirements are to be considered.
Digital Copying
All MFD's use digital technology and this works in the same way as a scanner, by breaking up the image into dots (dpi – dots per inch). This is in total contrast to analogue technology which took a picture of the document to be copied. Digital technology provides for better quality and a more efficient process.
Duplex
Duplex is another word to describe the automatic copying or printing of a document onto both sides of a sheet of paper. Duplex functionality can be set to default meaning that all output is printed to double sided, thus saving the user in terms of its paper usage. Duplex is also an important aspect of 'rules based printing.
Editing Features
Normally used with colour devices which enable the user to move, change or adjust the colour of the original image.
Electronic Recirculating Document Handler (ERDH)
Is able to copy two-sided originals, handle original once when making multi-copies, and automatically sort output copies.
Electronic Sorting
A method of sorting which allows the user to collect copies without the use of sorter bins. This is achieved by outputting each collated set in a staggered fashion.
First Copy Speed
This is an indicator that defines how quickly a device can copy/print the initial page of a document – particularly useful when a machine is often in stand-by mode.
Full-Bleed
This is where an image covers right to the edge of a sheet with no borders or margins.
Full-Colour
This describes devices that are able to produce full colour photographic quality often on high gloss paper.
Large Format Device
A device that is capable of producing Large Format (often A2 size and larger) media.
Machine Downtime
The amount of time (hours or minutes) that the primary functions of a particular device(s) is unavailable thus making the machine unusable.
Managed Print Service (MPS)
The supplier will take ownership of the customers print strategy and manage any policies. The essence of an MPS is to ensure that the user has access to the right device given its work outputs without having a particular lease contract preventing fleet management. Device diagnostics and management of consumables are provided by the MPS supplier.
Platen
This is the glass area on which original documents are placed in order that they can be copied.
Raster Image Processor (RIP)
This is another way of describing a print controller. The RIP is used to attach an MFD to a computer network often to convert (colour) files into printing instructions for the device.
Recirculating Automatic Document Feeder (RADF)
This is an automatic document feeder that turns the original document over to be copied on its reverse side. Devices must have duplex capability to work properly.
Reduction/Enlargement
Lower spec devices have simple preset settings to allow for reduced or enlarged outputs. Higher specified devices will allow the user to zoom into or as far out from the original as needed.
Remote Diagnostics
This system links into a network which allows the device to inform the suppliers technical support team of any faults or consumables required. Where a fault occurs this means that it can be analysed and understood and rectified often without any user intervention. This approach is particularly relative to an MPS (Managed Print Service) type of requirement and will improve product up-time.
Rules Based Printing Strategy
Is often considered as part of a wider managed print strategy but can also be considered on a smaller scale. Essentially the high level user sets the standards for device usage controlling areas such as colour usage and default to duplex.
Scan to File
Digital equipment utilises 'scan to print' technology to produce the print, however the destination of the scanned copy can be sent to a PC, central archive or print room for example, providing the equipment has a network connection. The mailbox function within the device enables you to configure numerous destinations addresses that can be accessed at the touch of a button.
Scan once/print many
By holding a scanned image of the original document in its memory, a device is able to produce additional copies without the need to handle the original again and again.
Service Contract
This is the signed agreement between you and the supplier which details the service provision… This should reflect the framework documentation and/or any 'locally' agreed variations made by you. You should NOT sign supplier orientated documentation unless you are sure it reflects Crown Commercial Service terms.
Sorter
The sorter is a set of horizontal 'bins' near the output tray which enables the collation of multi-copy documents. Some sorters have a staple facility which automatically staples sorted documents.
Stackless Duplexing
This is a type of duplex copying that keeps the original document as an image in memory and not physically in a tray. Thus, rather than keeping a 'stack' of one-sided copies until the copier is ready to copy onto the second side, stackless duplexing allows you to make as many double-sided copies as you need, without being limited to the number of sheets a duplexing tray can hold at a time. This is often also referred to 'tray-less duplexing'.
Stationary Platen
These days, all but the most basic PC-segment copiers are equipped with a stationary platen. The top of the copier does not move back and forth across the document to be copied.
Toner Coverage
Normally expressed as a percentage, for example, cost per page at *8.75% coverage. What is 8.75% coverage? The industry standard measurement for this is simple, if you could combine all of the printed characters on a page into a single (black) block, then the area of that block is compared to the total printable area of the page. In the above example the resultant block would cover 8.75% of the page. As the percentage coverage increases the yield of the toner cartridge reduces.
Warm up Time
The warm-up time is defined as the amount of time between when an MFD or copier is switched on and when it is able to begin its first job. Remember, the larger the MFD, the longer the likely warm-up time.
Yield
The yield is defined as the number of copies a particular consumable (e.g. toner, developer) can support. The toner yield for example can be calculated by estimating the number of copies made per month and the amount of toner used per page.
Zoom
The zoom function enables you to reduce or enlarge copies within a certain percentage range. These days digital copiers can zoom up to as high as 800% and reduce to as low as 25%
---
For more information on how EMS Copiers can reduce your printing cost please contact Kate @ kate@emscopiers.ie