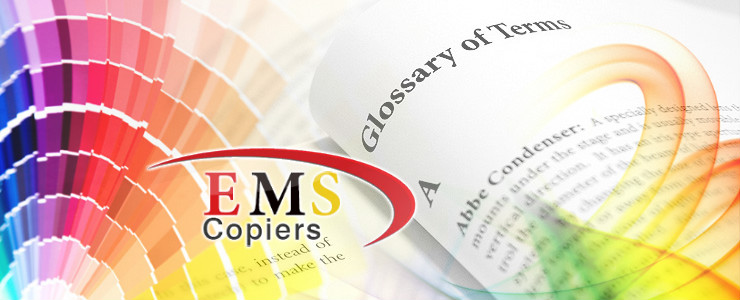 As part of our continued effort to make communication with our customers as easy and fluid as possible here we are publishing the fourth part of our common sense glossary of frequently used terms and phrases in our sector.
---
Bypass Tray
A bypass tray reduces the risk of a paper jam by offering an alternative short, straight paper path. It enables you to copy straight to originals – such as coloured paper, odd-sized paper or card i.e. materials which cannot be fed (or are impossible to feed) from the regular paper tray inside the device. Bypass trays can handle anywhere from 1 – 100 sheets. Bypass trays that can handle more than one sheet are called stackable bypass trays. Larger Multi-Function Devices (MFDs) will have this facility as standard.
Catch Tray
The catch trays collect the completed printed or copied material that emerges from the device.
Consumables
Items that every so often need to be replaced are known as consumables. These include toner, paper or any other customer-replaceable unit. Consumables (except paper) are usually provided as part of your service contract and form part of the cost-per-copy charge.
Control Panel
The control panel is the area where you find and operate the control functions for the device (unless the device is connected to the network in which case many functions can be operated from the desktop). Nowadays, the control panel is a stylish LCD display with easy-to-follow-instructions which can guide the user through variables such as number of copies required, paper size and reduction or enlargement options.
Copier Counter
A useful management tool, the counter keeps a numerical record of the number of copies/prints produced. On networked devices this data is often accessible via electronic means.
Copies per Minute (CPM) Or Pages per Minute
This is a value expressed by the number of (usually A4) pages a device can produce per minute. Note that different output requirements can slow the number of copies produced e.g. colour presentation slides.
Cost per Copy (CPC)
(Also referred to as Cost per Print (CPP) or Cost per Impression) This is the traditional method of paying for the service and maintenance elements of a contract. Unlike printers, which are traditionally serviced under a warranty or via an annually paid maintenance contract and where the provision of toner is the responsibility of the user – the service, toner and other consumable parts (Excluding Paper) needed by an MFD are provided by the supplier as part of a fixed cost per copy/print. Suppliers will usually invoice in blocks or increments – just like buying phone credit. When you have used up your "block" or "increment" you will be invoiced.
Cost of Ownership (TCO – Total Cost of Ownership)
Consumables such as toner as well as service contracts and lease payments are all part of the price equation when considering the total/long-term cost of an MFD – Multi Function Device. Volume outputs should also be considered. It is important to understand all of these factors when considering budgetary requirements and MFD selection.
---
For more information please contact Kate at: kate@emscopiers.ie