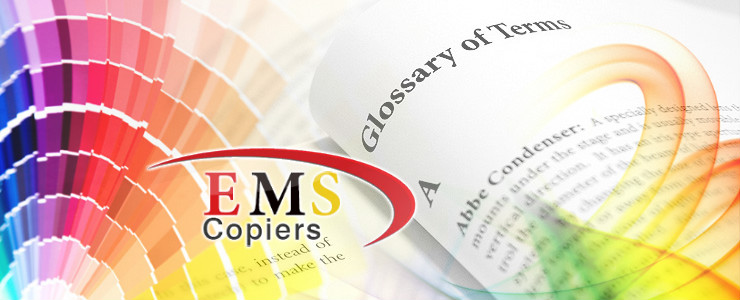 As part of our continued effort to make communication with our customers easier and remove the veil of jargon from the world of printing and copying we are regularly publishing a common sense glossary of frequently used terms and phrases in our sector.
---
Networking
Networking involves connecting your IT infrastructure (PCs, laptops, smart devices) to your print, copying and multifunction devices either through wireless or wired connections. Networking your printing and copying systems so that several users have access to the same device(s) allows for greater efficiencies and savings. When networking your system it is important to specify sufficient memory to handle multiple jobs. You should also consider your IT security requirements and ensure that they are pre-specified and can be met by your chosen supplier.
Colour or black and white
Printers and copiers come with either black and white or full colour capabilities. Where simple functionality is more important than creating an impression, it is good to know that there is a choice to stay with simple black and white or monotone copying and printing. However with the costs associated with colour copying and printing falling dramatically and the competitive pricing secured via our tailored framework, it may cost you less than you think to specify colour in your requirements when there is a clear need. Remember though that colour capabilities and impressions will add to your costs, especially where it is not a primary requirement.
Toner consumption
Toner consumption is the amount of ink your printing, copying or multifunction devices consume during any given period.
Advances in toner consumption technologies mean the latest devices are highly economical, meaning longer intervals between toner cartridge replacements. Many factors are involved in the calculation of running costs – including the volume of 'best quality' results compared with day-to-day requirements.
You should also talk to your preferred supplier about toner 'save' or 'draft' printing options and toner optimisation, generally available on most MFDs – this can often give you the same or acceptable results whilst consuming much less toner on the paper.
Finishing
Sorting, stacking, stapling, folding, booklet making, punching capabilities and other options are known as "finishing" and may be automated on larger MFDs (multifunction devices). Thus the investment in higher specification devices can often save a great deal of labour costs as time-consuming repetitive work can simply be done automatically. Your workflow requirements and employee time constraints should always be considered as the right device(s) can significantly enhance your production capabilities.
---
For more information please contact Kate @ kate@emscopiers.ie