As you are probably already aware, EMS Copiers primarily supply and service printers, photocopiers and multi function devices and have been doing so for 50 years!
More recently we have supplied dozens of businesses with home office printers and copiers as well as the Thermal Detection Module, giving extra reassurance to staff and customers returning to the workplace.
We offer a range of devices including UTAX, Ricoh and Epson, all suitable for any size business and for home office use.  EMS can deliver and service nationwide.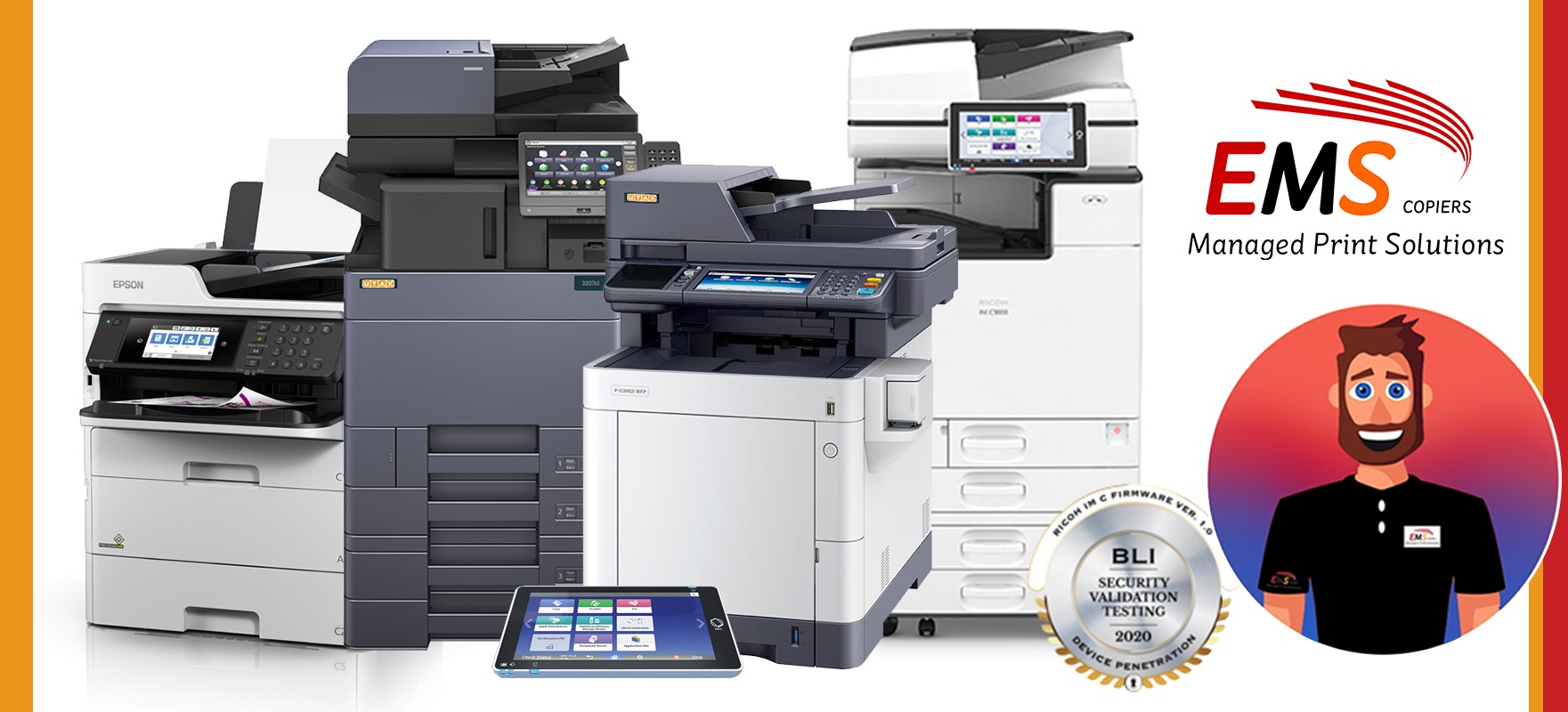 Our Managed Print Solution has proved to be a huge success with our customers in terms of savings, versatility and security.
Take a look at our video below to find out how our Managed Print Solution works or feel free to call and have a chat on 1890 770 770.
Before we implement a Managed Print Solution we take the time to familiarize ourselves with the layout of the premises and carry out a detailed audit of the volumes produced on the existing devices.  Factors such as expansion or downsizing are all taken into account.  By taking the time to go through this process EMS can provide a detailed and accurate analysis of potential cost and efficiency savings.
What is a Managed Print Solution?

Essentially a new device/s with no capital outlay.  Maintenance and toner included.  All of our devices print, copy and scan.  EMS offers a range of bespoke software solutions designed for specific functions or vertical markets to fit in with your process.   Our software packs are essentially a mix of software, hardware and professional services that, when combined, produce a package of products bespoke to the clients' needs with the flexibility to adapt and scale as required.
EMS Taking care of colour costs
EMS also offers an intuitive Intelligent Colour Billing Solution.  Put simply, we automatically calculate the amount of colour toner you use per page and reflect this in your billing.  So you only get charged for the amount of colour you actually use.  We have passed on significant savings on colour printing and copying through this solution.
The Benefits of Intelligent Colour Billing:
Reduce Print Costs – Only pay for the colour you use

Lower Total Cost of Ownership (TCO)

Complete visibility and traceability of your print costs

No compromise on print quality

Increased sustainability – Less toner usage means less waste