GDPR Aware?
The date for General Data Protection Regulation (GDPR) is fast approaching, 25th May 2018. GDPR will affect any organisation that stores personal data, this is defined as anything from a name, photo, bank details, email address.
IT security is indispensable for secure business operations and uninterrupted processes. Whether it is because of the increasing threat of cyber attacks, the growing number of applications and sensitive data, or new regulatory requirements, security in office communication represents a challenge for every company, and should therefore be at the very top of your agenda.

The Data Security Kit ensures the protection of your confidential information, right at the system level: it overwrites and encrypts copying, scanning and printing data, even before they are saved to the hard drive. In addition, the memory area for the output data is automatically deleted so that the data cannot be restored.
DO YOU KNOW THE GAPS IN YOUR SYSTEM?
Originals whose data are temporarily stored on a hard drive or in memory during copying or scanning remain there unprotected until other data are saved.
Are data streams within your company protected against unauthorised access during processing and administration? Can you exclude the possibility of unauthorised read-out of archived or temporarily stored printing data?
DATA SECURITY KIT CLOSES THESE GAPS – PERMANENTLY.
Automatic and permanent overwriting: The Data Security Kit deletes and overwrites the output data in the memory area of your MFP or printer, so that they can no longer be restored. This process is permanent and automatic.
Encryption in compliance with the strict standard AES-256: The Data Security Kit encrypts the output data in the system – i.e. before they are saved to the hard drive. The encryption takes place automatically in compliance with the Advanced Encryption Standard (AES), which e.g. is used in the USA for government documents with the highest confidentiality level.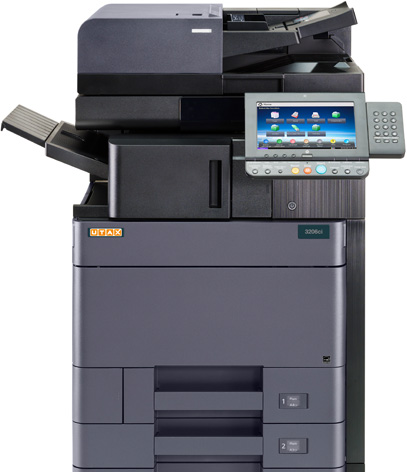 IT'S THIS EASY: ENCRYPT, OVERWRITE, BE SECURE.
These functions are offered by the Data Security Kit:
Encrypts documents and user data automatically before they are saved to the hard drive (in compliance with AES-256)
Overwrites data that are no longer required and memory areas from which data have already been "logically" deleted
Triple overwriting (standard setting): The same area is overwritten twice with a random pattern and finally with zeros
Password protected for administrators C ertified according to ISO 15408 EAL 3 (see below) O ptional kit for MFPs and printers
Your advantages as a company:
Protects confidential data right at the system level, and thus increases the protection of your company data against unauthorised access
Secure method for overwriting and encryption of data, which makes the restoration of information virtually impossible
Simple implementation and intuitive operation directly at the MFP or printer